Amalgam-Free Dentistry Waterloo - Dentist in Kitchener Waterloo
Are dark or metal fillings getting you down? If you're put off by the idea of metal fillings and are looking for a more "natural looking" option, Dr. Tatiana Del Moral is more than happy to accommodate your needs. One of the most popular services that we offer is amalgam-free dentistry, which means that we use modern materials like porcelain or natural resins for treatments and procedures that are free of metal and amalgam. This is the best way to restore your teeth, providing stability and aesthetically pleasing results.
Although metal fillings are suitable for treating damaged teeth, they are very noticeable when speaking or laughing. This can make them unpopular for patients who are looking for more natural looking results to boost their social and professional life. Amalgam-free dentistry allows us to restore problematic teeth in an attractive way since the dental materials used (such as porcelain, ceramic, and composite resin) can be customized to your teeth's natural color. In addition, these materials are also strong and durable so they can sustain the heavy pressures of chewing. With proper care and regular check-up visits, your new repair should last a long time.
We offer a broad range of amalgam-free and mercury-free dental solutions such as bonded fillings, dental crowns, dental bridges, root canal therapy, invisalign invisible braces, implant restoration, and dentures. So, regardless if you need a chipped tooth repaired or a missing tooth replaced, our amalgam-free dental solutions are the answer you are looking for.
Contact Dr. Tatiana Del Moral and her professional staff, your Waterloo family dentist, for dental care you can smile about. We are happy to answer any questions or concerns you might have, and will explain our proposed treatments to you so that you are confident in the result.
Serving the Kitchener and Waterloo area, we welcome new and returning patients. Call us today!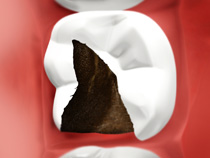 Last Updated On
2021-10-17