Bonded Fillings Kitchener - Waterloo Dentist - Waterloo Dentistry
Thanks to advancements in dental technology, we can now treat decay without the need of amalgam or metal fillings, making the restoration process easier and its results much more attractive.
Dr. Tatiana Del Moral, who has proudly served the Waterloo & Kitchener region for over a decade, is proud to offer bonded fillings which are made of a highly durable and tooth-colored materials like composite and porcelain resin. In the past, restorations that used metal composites were not only highly visible, but problematic. Their life span was not very long and could sometimes contain mercury. These are a thing of the past, however, as composite-free fillings, which are bonded the same day, eliminate any such problems.
Tooth-colored bonded fillings can be used to:
Treat decay
Repair chips or cracks
Fill in gaps between teeth
Replace old fillings
Create a more uniform smile
We can use these materials in a range of treatments, but with bonded fillings we can solve a great many issues in a quick and painless manner. Because the composite material is customized to your teeth's unique shade, bonded fillings are very natural looking.
The material can be sculpted into its desired shape to ensure aesthetically pleasing results. Best of all, bonded fillings can be applied in a single appointment, so you can have a healthier more attractive smile on the same day. With bonded fillings, you can confidently take on any social and professional encounter and smile proudly. You can improve not only your smile and self confidence, but most importantly, our oral health.
If you're looking for a Kitchener and Waterloo dentist who is skilled and has a gentle touch, contact us today by phone, email or request to set up an appointment. We strive to meet your needs in a gentle and professional manner, offering our help to everyone in the family.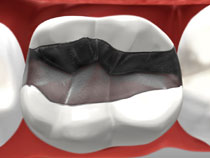 Last Updated On
2021-09-22