Full Mouth Restoration Kitchener - Dentist in Waterloo Kitchener
We can fix just about any issue that has been holding you back from visiting the dentist! It doesn't matter if it is stains, decay, damaged or even missing and worn teeth. There is no reason to avoid improving your oral health, and making sure that no issues become serious enough to require lengthy treatments.
The experienced staff at Riverwalk Dentistry in Waterloo can bring your smile back to brilliance and health!
Dental problems, such as missing teeth, cracks, decay or gum disease can cause a host of issues; making it difficult to chew, speak or even smile are only the most common of these. And if these oral health problems aren't properly treated, they risk becoming worse, leading to more serious problems in the future that would demand more time and expense.
Dr. Tatiana Del Moral, your skilled Kitchener and Waterloo dentist, offers full mouth restoration to bring your smile back to full health. Full mouth restoration involves using multiple treatments together, such as cosmetic, restorative, periodontal, endodontic and orthopedic treatments, to restore your smile. We can carefully examine your case and come up with a solid plan to restore your smile.
Using modern materials and the best accepted practices in the industry, we are confident you will be smiling proudly for a long time. Just a few of the restorative treatments that we offer include:
Bonded fillings
Dental Crowns
Dental Bridges
Non-surgical gum therapy
Root canal therapy
Invisalign Invisible Braces
Hygiene services
Teeth whitening
Most of all, we can help you keep your smile healthy in the long terms with proper care at home and with regular visits for cleanings. No matter the age or extent of work, we are here to help you on your way to oral health.
Are you ready to improve your smile and oral health? Contact Dr. Tatiana Del Moral, your skilled restorative dentist in Waterloo, today!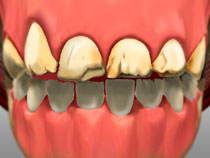 Last Updated On
2021-10-17