Invisalign in Waterloo - Invisalign in Kitchener - Kitchener Dentistry
The job of braces is to correct the alignment of skewed teeth by gradually pushing them into shape. At the mention of braces, the picture of metallic wires comes to mind and the thought of wearing them the whole time keeps some people away from opting for this treatment. But metal braces are not the only solution for alignment issues. You can correct the alignment of your teeth by making use of Invisalign Invisible Braces which are very convenient to use. The many advantages of these special braces are:
You can remove these aligners while you are eating, drinking or brushing your teeth.
They do not have negative impact on the roots of teeth.
These custom made aligners are more comfortable to wear.
The biggest advantage of invisible braces is the aesthetic value they bring. As they can hardly be detected from a distance, you can wear them all the time without getting conscious about your looks.
A complete set of aligners is prepared, based on the prospective change in shape of your teeth. They can be replaced from time to time as teeth gradually start to straighten up. At our practice in Waterloo,Ontario, we offer a host of options in customised Invisalign invisible braces.
Contact Dr. Tatiana Del Moral and inquire about your braces needs.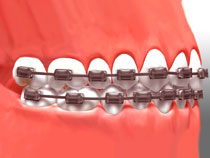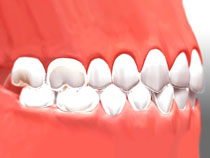 Children and Teens Dentist
A part of your child's visit to our office will include an orthodontic evaluation. Dr. Tatiana Del Moral will check to ensure that your child's teeth are erupting properly and that there are no facial, jaw or bite irregularities. 

Braces are typically applied between the ages of 10 and 14 although it is not unusual to start treatment earlier. Often early treatment may fix future problems, avoiding more costly, extended treatment at an older age. 

Orthodontic appliances may include palatal expanders, habit or functional appliances, retainers or bracket and wire appliances. Dr. Tatiana Del Moral will offer free orthodontic consultations to see if braces or Invisalign are right for you and your family. 
Adults Dentist
So, you are an adult thinking about straightening your teeth... 

Dr. Tatiana Del Moral understands the significance of people wanting to have a beautiful, straight smile and the impact it has on a person's self esteem. Whether it is one tooth that bothers you or several misaligned teeth, there are many options now for improving your smile with orthodontics. 

Less noticeable braces or clear retainers (Invisalign) may be just what you need to uncover the smile you've always wanted.   
Invisalign for Teens, Adults and Kids!
This type of orthodontic treatment consists of a series of clear aligners which will gradually move your teeth into proper alignment. 

Dr. Tatiana Del Moral has had great success treating many patients using this clear alternative to the traditional brackets and wires. Call today for a free consultation.

Located off the Hwy 85 in Waterloo, ON.
Last Updated On
2021-09-22