Porcelain Inlays/Onlays Waterloo - Dentist in Kitchener Waterloo
We offer a wide range of cosmetic options to help with unforeseeable accidents: relying on a depth of experience serving the Kitchener and Waterloo area, we can restore, repair and whiten any issue that you may feel is holding you back. If you need emergency cosmetic repairs, we are here to help!
One of the alternatives we have available to treat an ailing tooth is a porcelain inlay or onlay. These dental restorations are ideal for strengthening weakened back teeth as well as restoring previously treated teeth that require repair or restoration. With wear, neglect and even accidents, even a small chip or crack can develop into more complicated issues.
Unlike other dental restorations, like dental crowns or dental bridges, an inlay or onlay only restores a specific section of the tooth. Besides restoring the tooth, porcelain inlays and onlays strengthen and protect it from further damage, restoring your chewing surface. The durable porcelain material is also aesthetically pleasing since it is customized to the natural shade of your teeth. An inlay will be placed within the tooth's cusp, where as an onlay can cover a greater area above the gumline.
Once the decayed or damaged portion of the tooth is removed and the remainder cleaned, the inlay/onlay is attached and bonded to the tooth. We use modern materials like porcelain or natural resin to ensure a durable and natural finish to the inlay or onlay. This is bonded to your teeth with UV light, ensuring it will adhere well for a long time. Because the restoration is custom-made in a lab according to your mouth and teeth, this also ensures perfect results.
Ready to give your smile a boost? Contact Dr. Tatiana Del Moral, serving Waterloo and Kitchener, to schedule an appointment today. We are happy to welcome new and returning patients!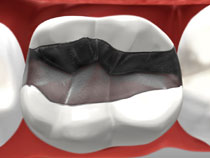 Last Updated On
2021-10-17