Porcelain Veneers in Waterloo - Dentist in Kitchener
Are you ready to revolutionize your smile? If so, you'll be glad to know that Dr. Tatiana Del Moral offers porcelain veneers to give your smile a unique and long-lasting makeover. These amazing dental restorations slide over your teeth's front surfaces to mask stains, close gaps, fix chips and create more uniformity for your smile. Porcelain veneers can be a fantastic alternative to many treatments while restoring your brilliant smile.
Porcelain veneers are created from this highly durable material so as to last longer than past methods and materials. They are attractive and natural looking since the porcelain shells can be customized to the unique shape and shade of your teeth. In fact, these versatile dental restorations can last for many years with proper care.
In order to apply veneers there will need to be some prep work: Dr. Tatiana Del Moral and her experienced staff can walk you through every step and make sure it is the best option for you.
In order to ensure that the veneers will adhere, some of your teeth's enamel will have to be removed. Some reduction in the length of specific teeth may also be necessary. While this is done, you customized veneers will be made to a custom fit in our lab. A temporary set of veneers will be used while we manufacture the permanent ones.
Once applied, you will see an end to sensitivity to hot and cold food brought on by cracks in the tooth, as well as stains, chips and cracks that were otherwise visible.
Are you wondering if Porcelain veneers are right for you? Contact Dr. Tatiana Del Moral, your cosmetic dentist in Waterloo, to set up a free consultation today. We will help you determine the best way to perfect your smile through careful attention and thorough diagnosis.
Call or email us today to book your appointment!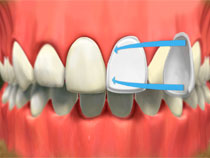 Last Updated On
2021-10-17